ROLLING IN THE DEEP!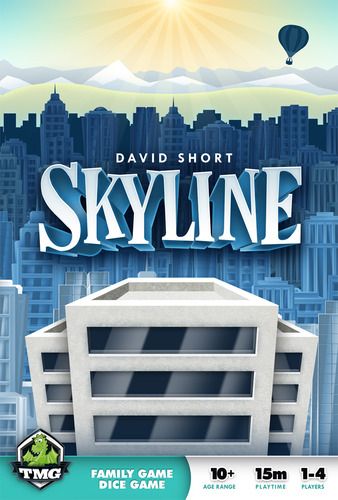 Skyline Review
A simple dice game from David Short, the game designer of Ground Floor. This game is part of Ground Floor Kickstarter exclusive stretch rewards. The project had reached $75K to unlock this additional game for each backer. At first the game was not known by anyone, the project backers were pleased for having an additional game from a game they backed. All they knew was it's a game of dice rolling with a city building theme (well, though it's not literally a city building, more like a dice building game). The first thing we knew about the game was the cover, which was an okay. The rest were revealed right after the stretch reward was reached and I was half of ignorant about how the game played, since I was more lean toward the main game (Ground Floor) instead of this one and pretty much ready to receive this additional bonus for whatever it was.
1. Theme
I guess there's really not much of a theme in this game. It's practically a dice 'building' game with pasted on theme of skyline buildings. For such a simple and short game like this, theme is never such a big deal in the fist place. It's a filler alright and people don't care about the theme. What they care is, this game answers their need for a quick and simple game to fill in their gap time.
2. Artworks
Gavan Brown did the art of the game. The box art really depicts his style. You can check his other creations like Eminent Domain planet cards, Jab Real Time Boxing and Undermining. These artworks have the same style of colorful vector arts. Few things to notice though, the colors are combined very well and really stand out, and also the building tiles have various shapes and colors even for buildings with the same value. These attention of detail is a plus in my opinion though not an essential aspect to the game play.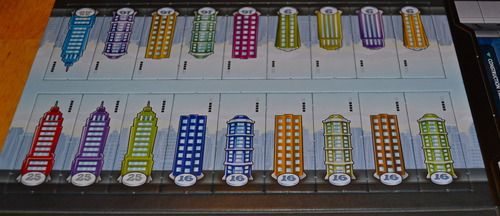 3. Game Components
Dicefest, yes indeed there are a lot of dice in the game (I'm talking of 60 custom six-sided dice), it's a dice game after all. The black based dice are divided into 3 categories: ground floor dice, upper floor dice and penthouse dice. These specific type of dice has different color on their sides, to determine the type of buildings, a low rise (purple), mid rise (blue) or high rise (orange) building. The building tiles are plentiful with double sided card board in different values (1 / 4 / 9 / 16 / 25 / 36) in different colors and shapes of the building. There are also a simple piece of game board for reference and round track and a single piece of small black cube for the round marker, The overall quality of the game is quite good, the bad side is the color quality of the dice are very poor. There are lots of dice with mismatch color, it's like applied with washed effect. For example the orange color of the dice does not consistent in each die, some have lighter color of orange, some have darker ones. But, this downside does not affect the game play, since you can still easily differentiate the type of building (either it's a low rise, mid rise or high rise) on the dice. This shows not only you can mark the building type by color, but you can also mark it by the iconography of the dice. A low rise building only has 1 window and mostly in blocked color, while the mid rise has several lines that form window panes. In the other hand, the high rise building has more lines (which means more window panes) than the mid rise. The game board quality is very good, it consist of a round track and also the building and space references. The board is double sided and has a smooth finish applied to it (my favorite finish beside linen finish).
4. Game Play
Though it's a simple and easy to learn game but I managed to understand it clearly after several times reading the rules and playing the game once. It's not that the game is hard to understand, it's just the rules are not pretty much clear with the walk through actions. In this game players compete to gain as many points as possible in 9 rounds by build buildings from dice. The game play area consist of 3 spaces (the main board, the construction yard and the abandoned district). The pool of dice are placed on the construction yard space based on the dice types, set the round marker in the first place of the round track and place one die of each dice type in the abandoned district (which always forming one die of each type minimum available for every one's turn). Player's turn consists of several phases, which are Take Dice, Roll, Action and Roll Again.
TAKE DICE
During player's turn, the player can choose to take dice from the construction dice or from the abandoned district. If he choose to take dice from the construction yard, he takes 3 dice (from whatever type whole or combination). If he choose to take dice from the abandoned district, he takes all the dice available on that space (there will oft be more than 3 dice in this district).
ROLL DICE
After taking dice, he rolls his newly taken dice and check the results. With these results he may take an action.
ACTION
Basically there are 3 actions that can be chosen. Player can either build, abandon or demolish. The most important thing is after player rolled the dice, he's must take an action. If he choose a build action, he may build his dice as a building (of course each building starts from the ground floor). He only needs to match the type of building and level of the dice. Once a penthouse part is completed, the building is considered complete and immediately exchanged for building tiles of the specific level (the dice returned to the pool). Beside BUILD action, players may abandon the dice by set aside one or a group of dice into the abandoned district. The other option is to demolish. This is done by demolish a player building (completed or incomplete) to return dice back into the pool.
RE-ROLL
After players take an action, they may re-roll the leftover dice and choose another action. Or they can choose to resign and end their turn (they return their leftover dice back into the pool).
The game ends after the last player take his turn on 9th round. Player with the highest value point of buildings win the game.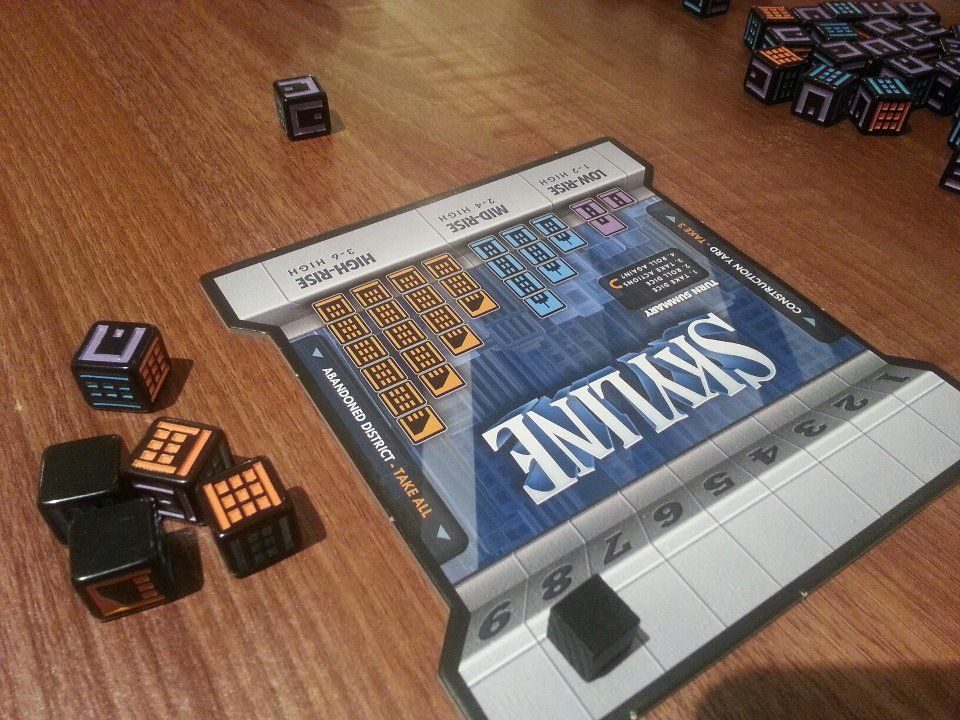 5. Replay Value
This game is certainly a filler. You can play it alone or with 3 more friends while waiting over anything (waiting in the restaurant, class, coffee shop, or maybe waiting for another heavier game to be played). It has it's uses, not really a thinker game and maybe with several plays, you'll have enough of it. I would say it has low replay value since every game should be no different, there is no element to add variant of the game.
My Thought of The Game
Personally this is a good game, easy to learn and quick to play. It's good to play the game with non-gamers and you can done all that in 30 minutes more or less. Though the game is just about rolling your dice, there are several decision makings in this game. A short and simple plan is needed for deciding which dice you should take and which dice you should choose in you actions. Whether you need to abandon or demolish your dice. But it's all end up in your luck of the dice. I sucks at this game and til now I still cannot win against my girlfriend over this game. She just never run out of luck. At first I did not thought the depth reward of the demolish action, what pushed players to lose points / incomplete building by demolish action. The main reason is not to let players after you to get additional dice in his disposal from the abandoned district. But considering the possible actions and outcomes, is it worth it? And at what cost? So it's a good thing if you stock one or two low rise ground floor dice in your building area just in case you are forced to take the demolish action.
I think it's a good and worthy game considering I got it from Kickstarter exclusive reward, it's the same to say that I got the game free.