Lesson 1. Your Civilization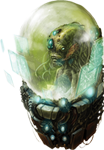 7th Headmaster of Jol Nar Universities wrote:
We at Jol Nar have a saying: "Those who cannot lead themselves cannot lead others." I myself wanted to add "unless you are me", but my spirit for ancient saying preservation get the best of me. In any case, before you learn to manage the universe, try to learn your civilization first.

Let's start from where is your brain. No, it's not on your knee (I hope).

Hal yang paling basic saat memilih race di TI3 adalah,
Race bukanlah Color!
Kamu bisa saja memilih Haccan yg notabene logo dan boardnya kuning, tapi player colormu adalah biru. So, step2nya adalah:
- Choose your Color (
Red

,

Green

,

Yellow

,

Blue

,

Purple

, Black,

Orange

,

Grey
)
- Then Choose your race (dirandom, pilih 1 dari 2 ato 3 pilihan)
Things from Your Race
Home System
Tiap hex adalah sebuah sistem (yang bisa terdiri dari beberapa planet). Home System adalah asalmu, harus dijaga baik-baik, karena kalo planet dari home system kerebut maka km
TIDAK BISA CLAIM VP
.
Command Counter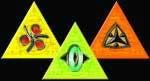 This is the
most
important pieces. Anggaplah ini action pointmu. Technically km bisa ngelakuin action sebanyak command counter yg km miliki. Dan ini juga akan ditaruh di map untuk menandakan activation ato "Click" yg telah km lakukan di map itu. This is the most important concept to understand. Untuk "action" di map, mirip kaya video game RTS, bayangkan km nge"click" map/hexnya, maka hex itu teractivate (dan ngga boleh km "click" lagi di turn yg sama).
Control Markers

Utamanya sebagai VP marker, tapi juga bisa jadi marker planetmu jika planetmu km ngga tinggalin figuremu satupun. Jadi km masih bisa ngosongin planet dan masih km control. Juga bisa jadi marker lain2nya.
Trade Agreement
Tiap Race akan dapet 2 trade agreement, dengan value berbeda. Basically, value ini melambangkan seberapa "profit" race
LAIN
(bukan dirimu) kalau mau trade dengan km. Simply tukaran trade agreement aja kalo maw trading.
Racial Tech

Tiap race punya specific tech yg bisa
diresearch
. Ingat, harus diresearch (dgn additional cost yg tertera), bukan auto-punya.
Race Sheet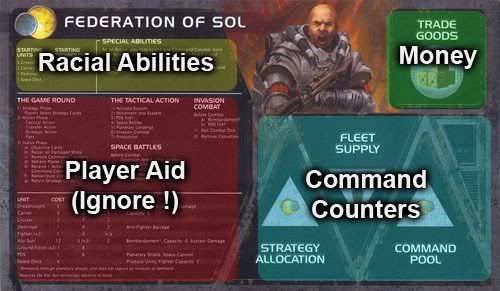 Ada beberapa bagian:
- Racial Abilities:
The most important information, ini yg bedain km dari race2 laen, serta setup khususnya.
- Player Aid:
Ignore hal ini! Meski makan tempat paling banyak, tapi ini
sama semua
dengan race2 laennya. Hanya sebuah player aid, yg infonya bisa km baca sendiri di Cheatsheet (lebih lengkap lagi).
- Command Counters:
Tempat para command counter. Ada 3 bagian penting, jumlah command counter yang ditaruh di masing2 bagian menandakan:
--- Command Pool: Seberapa banyak "action" yg km bisa lakukan waktu Action Phase
--- Fleet Supply: Berapa
maksimum
"ship" yang bisa ditaruh dalam
1 hex
--- Strategy Allocation: Seberapa banyak secondary (nunut) "action" yg bisa km lakukan.
- Money:
Self explanatory.
Things from Your Color
Figures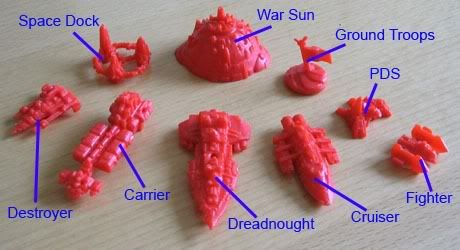 - Space Dock:
Tempat untuk produce units. Km ga bisa produce unit di tempat yg ga ada spacedocknya.
- Ground Troops:
Untuk invade dan menguasai planet. Unlimited
- Fighter:
Ship kecil2an buat sacrifice biasanya. Unlimited
- PDS:
Planetary Defense System. Buat pertahanan sekaligus nembak awal.
- Carrier:
Untuk bawa2 Ground Troops ato Fighter.
- Destroyer:
Ada kemampuan anti fighter.
- Cruiser:
Allround ship
- Dreadnought:
Strong Ship
- War Sun:
Strongest ever.
Yang paling penting, semua yang
biru
itu tidak bisa move sendiri ke hex lain, harus dibawa ship yg punya capacity (Carrier/War Sun). Dan tidak terhitung fleet supply. Yang terhitung
Fleet Supply
(max di hex ada berapa) itu yg
merah
saja. Semua unit limitnya tergantung Figures (kecuali Ground Troops dan Fighter). Dan per planet max 1 Space Dock dan 2 PDS.
Unit Aid

Sekalian ada sedikit player aid buat tau cost2nya masing2 unit
Tech Cards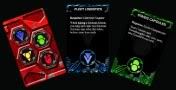 Technology. Km waktu research, ya tinggal pilih aja technology yg kamu punya, ambil, dan taruh di front race sheet ato sekitarnya. Intinya tinggal milih aja, asal eligible (semua syarat terpenuhi). Tiap tech menambah ability dari civilizationmu.
How To Setup
- Chose Your Color and get the components
- Choose Your race from randomized home system (2 ato 3)
- Get the race components
- Put starting Units at home system
- Put starting tech
- Put 2 CC (Command Counters) at Strategy Allocation area.
- Put 3 CC, flipped, at Fleet Supply area
- Put 3 CC at Command Pool area
- Ready to play!