Guys, aku agak rubah yaaa adventure yg akan kita pake, karena
Lost Mines of Phandelver
itu cuman sebentar, dan yang ini (
Hoards of the Dragon Queen
) bakal panjang, jadi mending yang ini saja (as usual, don't google the name). So, here's the background:
Quote:
The Cult of the Dragon has been active in Faerun for centuries. It has focused on making Undead Dragons to fulfill a prophecy most of that time, but now that's changing. Each of you has your own reason to go to a place called Town Greenest. And when you met each other there...

Setiap kalian nanti akan aku kirim email sebuah reason kenapa harus ke Town Greenest. Nanti jika di roleplay kalian sudah pernah menceritakan reasonnya, boleh ditaruh di Bond. As for the Town Greenest itself, here's a brief history
Town Greenest wrote:
The town of Greenest was founded by a halfling Dharva Scatterheart, a rogue who fancied herself the queen of the Greenfields. Scatterheart passed away without achieving that level of eminence, but her town grew into thriving community. Its success isn't surprising, since Greenest is the only town of any size astride of Uldoon trail, the most direct road between the eastern cities of the Dragon Coast, Cormyr, and Sembia with the Coast Way running south to the great cities of Amn, Tethyr, and far Calimshan. The trade caravans that passed through Greenest bring gold to the town's merchant and craftsfolk.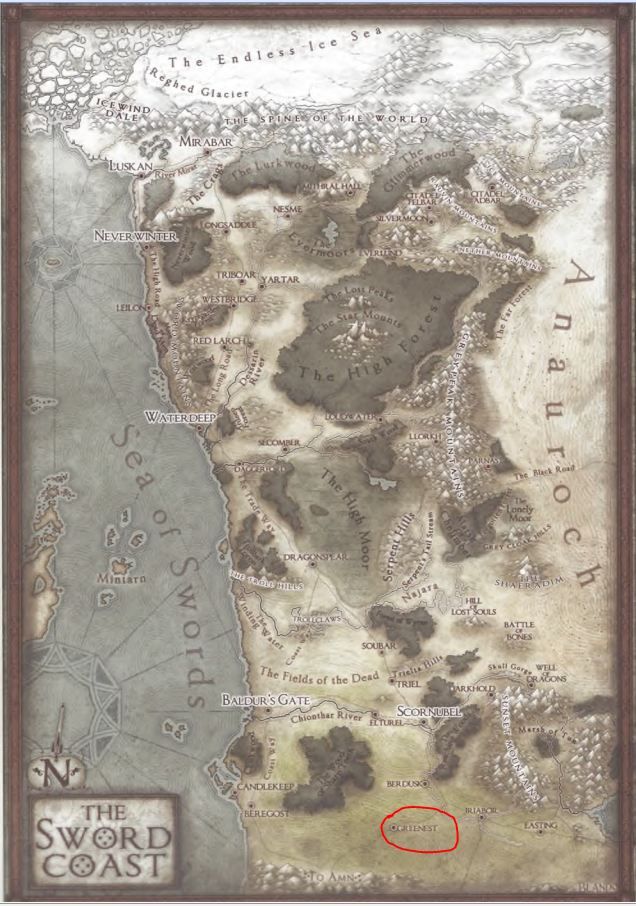 Jangan lupa PRnya:
- Selesaikan character kalian, Backstory, Personalty Traits, Bonds, and Flaws, kalau bisa dibikin paragraf spt punya Willys, biar aku jadi mudah refer to that, jadi aku bisa create beberapa opportunity untuk roleplay yg berhubungan dengan itu, sehingga bisa dapet inspiration. Magic juga beresin.
- Jangan lupa kirim gambar/avatarnya
- Tentukan Lifestyle expenses (PHB hal 172)
- Lebih tepatnya, usahakan membaca semua chapter 8
Ini akan aku update di post #2, dan juga beberapa link2 penting di post #1