Prelim Summer Rumble Fantasy dah berjalan kemarin dan as usual, seru abis! banyak muka2 lama dateng lagi dan ditambah satu-dua pemain baru. akhirnya jadi penuh sesak toko ahahahaha
anyway, juara akhirnya adalah Mario dgn army super broken Dark Elf (2 hydra! naga! chariot! blackguard! .. gimana lawannya coba...)
Tidak ada painting competition kali ini karena its just a prelim; sekedar latian untuk the real deal; Summer Rumble pd bulan juli. Thats the main event hehehehe tapi anak2 yg baru jadi bisa nyicip kayak apa nantinya dan terbiasa dgn format Tournament
sekedar highlight dari battle gue (ogre) vs mario (dark elf)
Battle gue lawan dia ditentukan oleh satu leadership test. Kalo gue roll 7 kebawah gue selamet dan kemungkinan dia yg kalah.. gue roll 10.. lari deh army gue ahahahahaha bisa apa...
Gue dibattle ini mendapat pengalaman pertama kalinya combat resolution tembus 15 points. Ogre gue berhasil bunuh sebanyak 14 wound. tapi krn jumlah, flank, rank si mario dpt combat resolution 16! ahahahahaha oh well, next time!
Foto2 acara:
tengah2 battle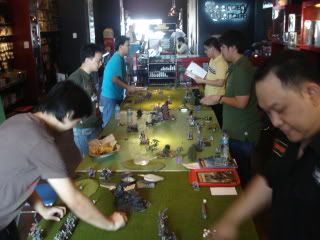 the last combat of the day:
Arie (lizzie) vs Andrie (high elves)
Thanks for all those that joined and see you in Summer Rumble!