O yeah, gw lagi gila nyobain minis
WM/H, Infinity and now...Malifaux
Ini game terhitung masih baru, walau perusahaan pembuat minisnya uda berdiri sejak lama tapi mereka baru mulai rilis rule utk minisnya bulan Agustus 2009 kemaren di Gencon.
Dari review2 yg gw baca di Internet, respon utk game ini positif dan banyak yg bilang kalo playstylenya mirip dgn Warmachine, tapi tetap memiliki keunikan sendiri.
Satu hal yang membuat gw bener2 tertarik sama Malifaux ini krn it doesn't use any dice. You heard me: it's a diceless system.
Sebagai ganti penggunaan dice, mereka pake satu deck playing cards(bisa pake kartu remi tapi kerenan pake custom Fate Deck buatan mereka).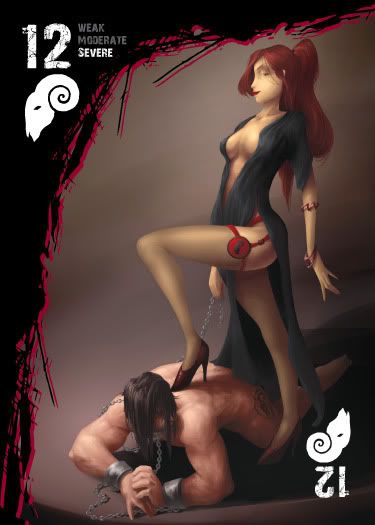 Contoh Fate Card Malifaux
Jadi, untuk menggantikan "roll" di Malifaux kita lakukan "flip" dgn ngebuka topdeck masing2 player. Kalau hasilnya mengecewakan, player yg ngebuka hasil terendah boleh "cheat fate" dgn taruh kartu dari hand(biasanya each player pegang 6 kartu di tangan). Simbol2 di kartu juga mempengaruhi efek2 trigger kayak critical dan masih banyak lagi.
Sama seperti WM/H Malifaux juga nyediain stat card supaya ga perlu repot2 bolak balik buku. Stat cardnya mirip kayak birthday card/chirstmas card/whatever yang difold di tengah2 itu.
Contoh Stat Card Malifaux
Another interesting thing is about the strategy and scheme system. Jadi dalam tiap game kita ga cuma bantai2an doang, tapi ada objektif tambahan yang bisa kita lakukan utk dapetin VP. Strategy itu objektif yang dibuka, jadi kita n musuh sama2 tau mesti ngapain(dua player bisa dapet strategy yg beda). Scheme itu objektif yg tertutup, tapi boleh dibuka utk dapetin 1 bonus VP kalau berhasil diselesaikan.
Pembuatan army di Malifaux menggunakan soulstone(resource yg diperebutkan di cerita Malifaux). Ga seperti dalam kebanyakan game, sisa soulstone yg ga dipake ga mubazir karena setiap Master(warcaster/warlock kalo di WM/H) punya soulstone cache mereka sendiri2 dimana mereka bisa gunain soulstone dalam jumlah tertentu(tergantung Masternya) utk berbagai macam efek kyk ngeboost flip(dgn ngeflip sekali lagi and total the value), negate damage, dan lain-lain.
Malifaux menggunakan setting yang menurut gw sangat ga biasa, didescribe oleh developernya sebagai Steamvictoriohorrorwestpunk.
What? here, let me clarify that: Steampunk, Victorian, Horror, Western.
Bukan cuma itu, Malifaux juga mengandung unsur humor yg bisa dilihat di beberapa figur mereka(Baby Kade, Bayou Gremlins).
Ada empat(well...almost 6) faction yg bisa dipilih di Malifaux yaitu The Guild, Ressurectionist, Arcanist dan Neverborn. The Guild adlh pihak penjaga keamanan di kota Malifaux sekaligus diktator di kota tsb, mereka jaga keamanan utk menjaga pasokan soulstone yang dimonopol oleh anggota mereka. Utk skr ada 3 Master utk pihak ini: Lady Justice(jago melee), Perdita Ortega(shooty master), Sonnia Criid(anti-magic)
Ressurectionist adlh pihak necromancers, tapi jgn dikira bentuknya macam gothic people with robes and black clothings, instead you get undead hookers, undertakers, samurai punk zombies and many more fun undeads to play with, hahaha. Ada 3 Master utk pihak ini yaitu McMourning, Nicodem the Undertaker and Seamus the Mad Hatter.
Arcanist...more or less illegal mages, hunted by the Guild krn dianggap berbahaya. ada 3 Master disini: Rasputina(cewe yg bikin deal with a powerful entity called December. She started the Cult of December. dan tentu saja..dia pake magic elemen es), Marcus(beastmaster) dan Ramos(steampunk mage)
Neverborn adlh penghuni asli dimensi dimana kota Malifaux berdiri, they represents humans worst nightmares. Ada 3 master juga: Lilith, Pandora(ini Master yg bikin musuh2nya pusing 7 keliling krn mau diserang aja susah) dan Zoraida(bog-witch? with voodoo dolls).
Selain 4 pihak utama ada juga pihak Outcasts. Outcasts juga punya 3 master yaitu Som'er Teeth(bayou gremlin yg gayanya mirip2 hillbillies), Viktorias(Mercenary yg dipimpin Viktoria Sisters - bisa dipake di army2 laen) dan Leveticus(steampunk necromancer - ga ada crew boxnya).
Gw sendiri uda pesen crew box utk Lady Justice dari pihak The Guild and also the lovely Perdita Ortega. Ada temen gw yg laen uda pesen crew box utk Som'er Teeth(Gremlins) dan Sonnia Criid(Witch Hunters - The Guild).
Some good review and article on Malifaux:
http://brokenzealot.blogspot.com/2009/0 ... ordes.html
http://thescreamingalpha.com/2009/08/14 ... iniatures/
http://undeadjons-miniblog.blogspot.com ... eview.html
Bbrp pics: