vardamir wrote:
Mot, sedikit masukan, kalo emang mau print murah, bisa di samping Untar. Dan g rasa sih di daerah kampus2 gitu banyak kok (cm yg g tau sih sekitas untar dan trisakti).
Kmrn g print name tag ibg itu disana, Rp. 3000 A4, pake kertas inkjet. Kalo mau bagus di laminate bolak balik (nambah 1000/2000).
Kalo emang interested, bisa bareng g kesana, tp g bisanya hr sabtu.
Semoga membantu...
Aku sih ngga perlu inkjet. HVS aja cukup. Di deket rumahku ada yg 2000an, tapi ga open 24 hours. Lagian Untar jauh men dari aku
Anyway, karena masi ada waktu seminggu, let's put more preview. Actually this is player Aid, tapi pada dasarnya 90% rule udah ada disini (yg ga ada paling rule setup). So this is the last preview.
Round Sequence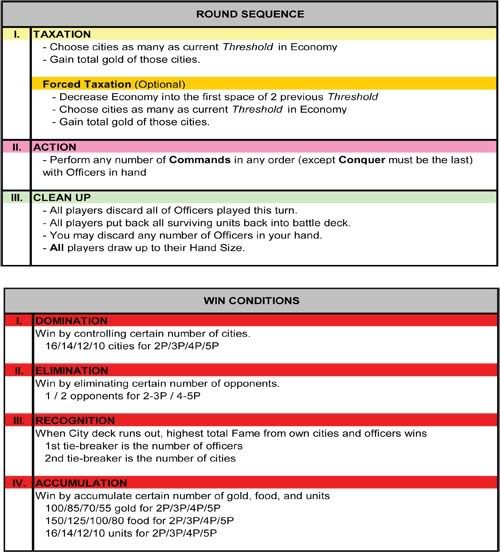 Biasalah, ada round sequence, tapi winning conditionnya agak nyomot ide dari Civ, ada multiple victory condition.
Commands
Dalam action kamu bisa ngelakuin command2 ini, dengan play Officer dari your hand.
Combat
Combat Sequence, how to execute
Skirmish
Pilihan yg bisa kamu ambil dalam Skirmish di Combat. Sama basic AI buat lawan neutral cities. (I have no idea kenapa photobucket bikin gambarnya berbackground biru/ijo gitu. Aslinya putih kok).
Auto Effects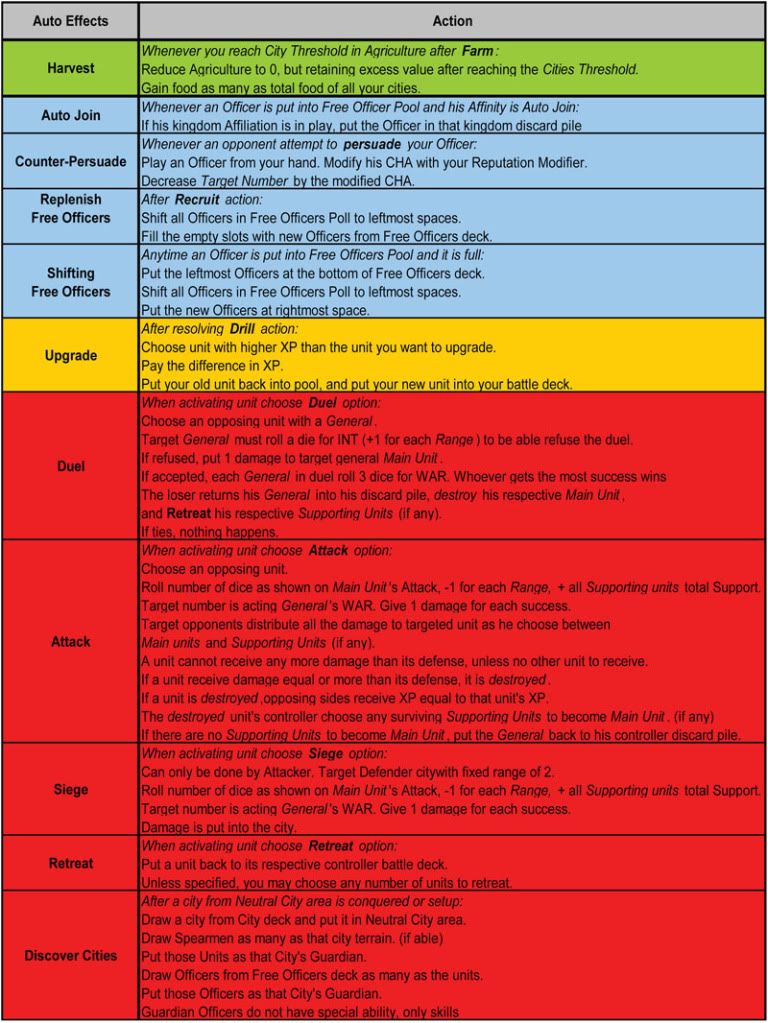 Ini adalah effect2 yang terjadi secara otomatis, yang ketrigger gara2 km melakukan action tertentu ato kondisi tertentu terjadi.
Skills and Terms
Finally ini adalah skills yg ada di Officer (di kartunya, yg bold). Serta berberapa terminology dalam game ini.
As always, comments welcome. Bisa dikata dengan ini kalian udah dapat gambaran lumayan jelas gameplaynya bakal gimana. Kalo ada hal2 yg tiba2 kalian merasa kok bakal imba ato gimana mekanismenya, bilang aja langsung. Mgkn bisa aku ubah sebelum dicetak.